Organized sports inspires people to take up mass sports
Share - WeChat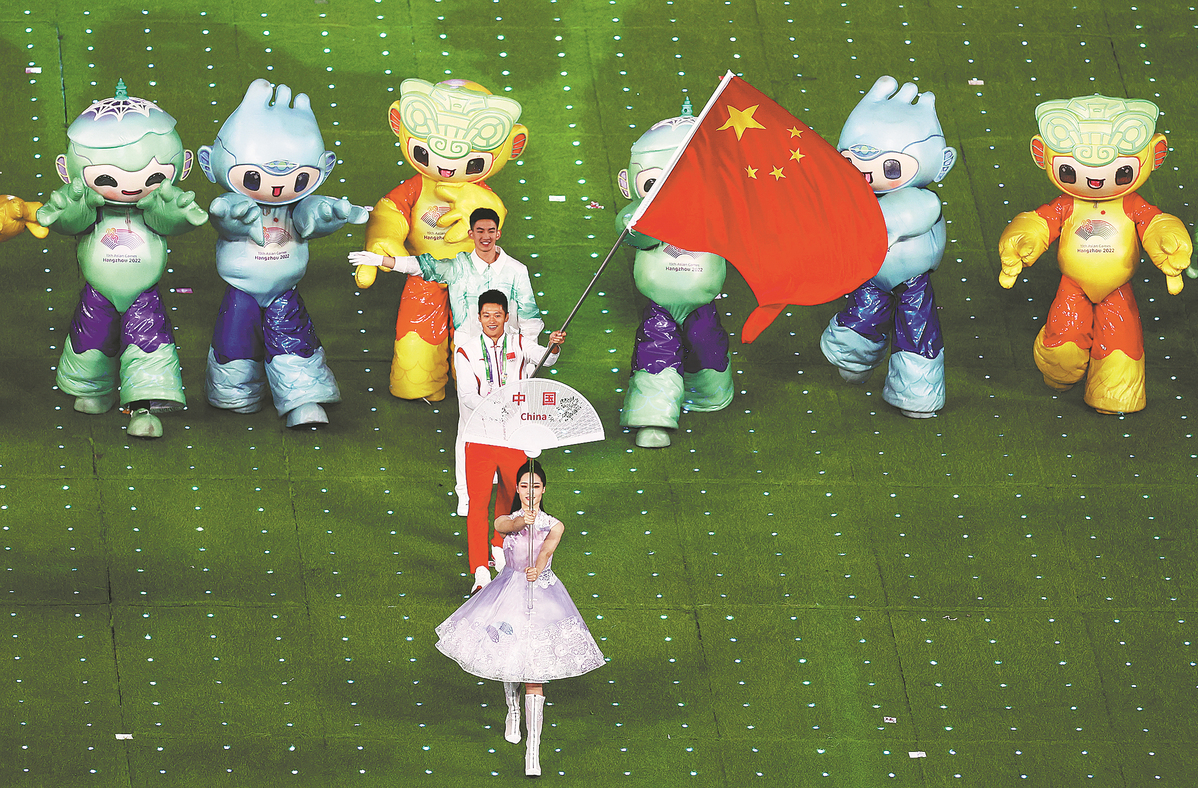 After getting a taste of spicy Sichuan savories at the World University Games in Chengdu in late July and early August, Chinese sports fans were treated to some delectable Hangzhou flavors at the Asian Games, which concluded on Sunday.
Although only a continental event, the Asian Games showcased competition of a much higher standard than the Universiade, because Asian athletes are now outstanding in nearly half of the Olympic events including shooting, archery, diving and swimming, gymnastics and, of course, table tennis and badminton.
Fans stayed late in front of TV screens or traveled to Hangzhou to watch live how the Olympic champions were upset and how the world and Asian records were broken. But to most of sports enthusiasts in China, the athletes' wins and losses only add a new topic to their chats, especially when they are jogging in a park or dancing on a square.
Winning medals at international and regional sports events and hosting sports galas used to be considered winning "glory for the motherland" and showing the country's prowess in sports. That was true till a few decades ago when Chinese athletes were low on professional training and Chinese cities poor in terms sports of facilities.
Having successfully hosted international sports galas such as the Summer and Winter Olympics, the Asian Games, the World University Games, and numerous championships and tournaments, China and the Chinese people eventually realized that their original purpose of doing all these is to attract more people to play sports to improve or maintain their physical fitness.
Physical exercise equipment have been installed in community parks and squares, and many villages thanks to investment from governments at different levels and donations. Running tracks have been laid in parks and bicycle tracks have prompted more people to take up cycling as a hobby or competitive sports — it's not uncommon to come across velodromes in some cities. And schools and universities have been encouraged to open their sports facilities to the public for a nominal charge.
In 2020, statistics show that over 37 percent of Chinese now play some sports frequently, if not regularly. "Frequently" here means at least three times a week, 30 minutes each time.
Though China used to be called the "ping pong kingdom", it is badminton becomes increasingly popular in China.
But the popularity of badminton is humbled by square dancing — a non-Olympic event that has driven millions of elderly Chinese people, especially women, crazy. An estimated 100-130 million people practice square dancing every day.
Every evening, millions of grannies flock to community squares or parks to loud music in groups for an hour or so. From waltz to tango, from Melbourne shuffle to styles of their own making, all dance styles is kosher to them.
Square dancing has invaded remote villages, too, probably because dancing gives them enough, sometimes more than enough, exercise but also provides the lonely hearts a chance to communicate with fellow elders.
Disputes occur now and then between the dancers and residents living nearby, mostly over the loud music, leaving the local administrators in a dilemma. On the one hand, dancing enthusiasts should be encouraged, on the other, they should be asked to lower the volume of the music and leave the square before a certain time, because loud music does create problems for some people.
China's sports achievements and improved sports facilities have helped attract hundreds of millions of people to sports. But more needs to be done to ensure people who have taken up sports continue their hobby and draw more people to sports.
Average spending on sports varies in different cities. People in cities such as Beijing and Shanghai spent about 4,000 yuan for the same purpose, possibly because club membership fees are relatively high in metropolises.
Since the amount makes up more than half of an average worker's monthly income, and thus could be a burden for many, local governments should consider providing subsidies to qualified clubs, so they can lower their fees, while encouraging schools and universities to open their sports facilities on a nominal charge to the public to attract more people to take up sports.
The author is former deputy editor-in-chief of China Daily.
Most Viewed in 24 Hours
China Views