Collective punishment won't bring peace to Israel
By He Yun and Shi Zhiqin | China Daily | Updated: 2023-10-24 07:42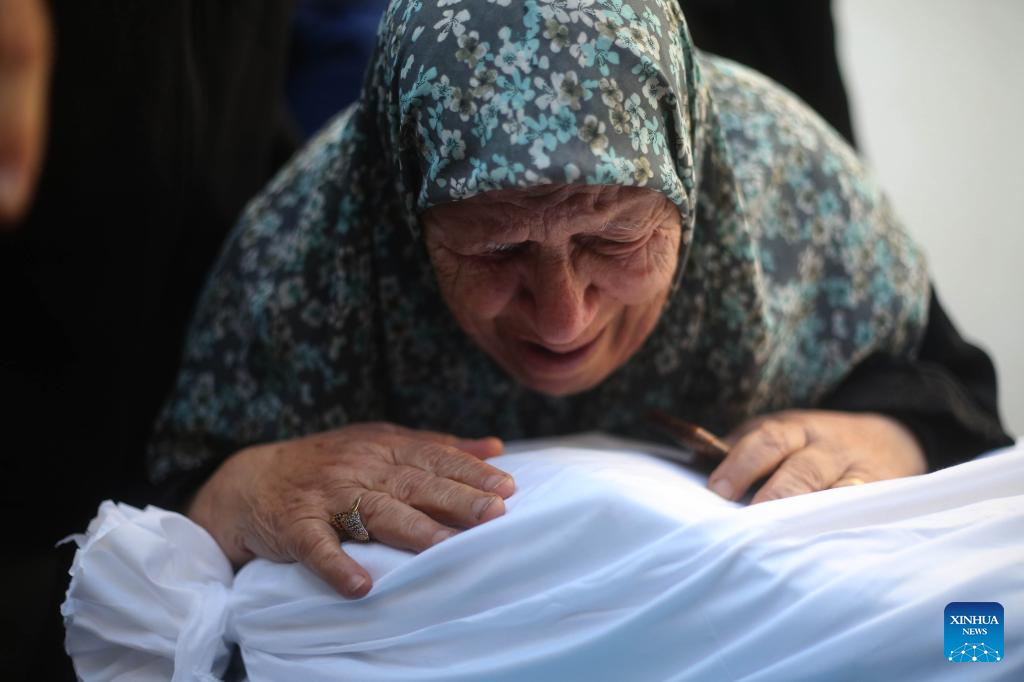 In the latest development in the Palestine-Israel conflict, Israel is stepping up its attacks on the Gaza Strip amid escalating tensions. Now the death toll in Gaza alone climbs to more than 4,600.
The number of fatalities in Hamas' attack since Oct 7 on Israel has reached at least 1,200, according to the Israeli military. For Israel, the pain and anger tapped into the collective memory rooted in centuries of persecution, pogroms and the Holocaust.
This history has engendered a mindset focused on protecting the Israeli state at all costs, which few other nations can grasp. While this sentiment is understandable, it does not justify punishing more than 2 million civilians in the Gaza Strip through blockades, forcible displacements and bombings. Israel has every right to defend itself, but collective punishment will only perpetuate the cycle of violence.
This approach has failed for more than 16 years. Since imposing a blockade on the Gaza Strip in 2007, Israel has launched several major military operations against the Palestinians there, causing extensive destruction and thousands of civilian casualties. Of the more than 2 million residents of the Palestinian territory, about 60 percent are below 25 years of age who have lived through repeated conflagrations and outbursts of violence. And with the unemployment rate in the Gaza Strip being well over 40 percent, more than 60 percent of young people — 15-to-29-year-olds — cannot find work.
Such economic despair breeds extremism, and will not bolster Israel's security. It will further radicalize the population, as it has already done, and drive away potential Palestinian partners for peace. Polls show that support for a two-state solution based on coexistence with Israelis plummeted among Palestinians from 43 percent in September 2020 to 33 percent in 2022. The predicament is that the continuing crisis further threatens to extinguish hopes for a negotiated settlement.
As Martin Luther King Jr. said, "Darkness cannot drive out darkness; only light can do that. Hate cannot drive out hate; only love can do that." History provides sobering lessons on the futility of collective punishment. After Germany's defeat in World War I, the Allied powers placed debilitating reparation demands and imposed military restrictions on the country, while annexing large chunks of its territory. That bred deep resentment, leading to the rise of Hitler. Many experts even argue that the Treaty of Versailles' draconian collective punishment of Germany paved the way for World War II.
Collective punishment was also imposed by the British on the Palestinians following the Arab Revolt (1936-39). These indiscriminate crackdowns radicalized the population and bolstered Arab resistance.
From Algeria and Ireland to Vietnam, collective punishments have repeatedly backfired, engendering mass resistance. They often end up strengthening the very extremist elements they aim to defeat or control. Israel itself was forged partly in response to the horrors of collective punishment against the Jews. Inflicting suffering on innocent Palestinians will only perpetuate the cycle of violence and conflict. It will not make Israelis more secure.
As Israeli novelist Amos Oz wrote: "The Israeli-Palestinian conflict is a tragedy; it is a clash between right and right ... Sometimes, recently, it is indeed a clash between wrong and wrong." Yet two wrongs don't make a right. The tragedy is that the voices of peace and reconciliation on both sides are growing fainter amid the drumbeats of war.
Although a just resolution to the crisis seems dauntingly elusive, Israelis and Palestinians have no choice but to seek it. Perhaps through compassion for all civilians, not collective cruelty, and an unflagging commitment to human rights, they can inch closer to coexistence.
Palestinians and Israelis alike want to live normal lives, free from violence. Realizing this shared dream requires ending unjust actions which sow hatred. Progress will be slow and frustrating. But mutual understanding must be deepened despite the setbacks to settle the Palestinian issue. Israelis and Palestinians both deserve the chance to shape a more hopeful future. For that, however, their leaders have to muster the moral courage to chart a new course.
As the late Israeli prime minister Yitzhak Rabin said, "Enough of blood and tears. Enough. We have no desire for revenge. We harbor no hatred towards you. We, like you, are people who want to build a home, to plant a tree, to love, to live side by side with you in dignity, in empathy, as human beings, as free men. We are today giving peace a chance, and again saying to you: Let us pray that a day will come when we all will say, enough; farewell to the arms."
Farewell to arms.
He Yun is an associate professor at Hunan University's School of Public Policy, and Shi Zhiqin is a professor on international studies, Tsinghua University. The views don't necessarily reflect those of China Daily.
If you have a specific expertise, or would like to share your thought about our stories, then send us your writings at opinion@chinadaily.com.cn or comment@chinadaily.com.cn.