UK counts cost of devastating storm
By JULIAN SHEA in London | China Daily Global | Updated: 2023-10-24 09:28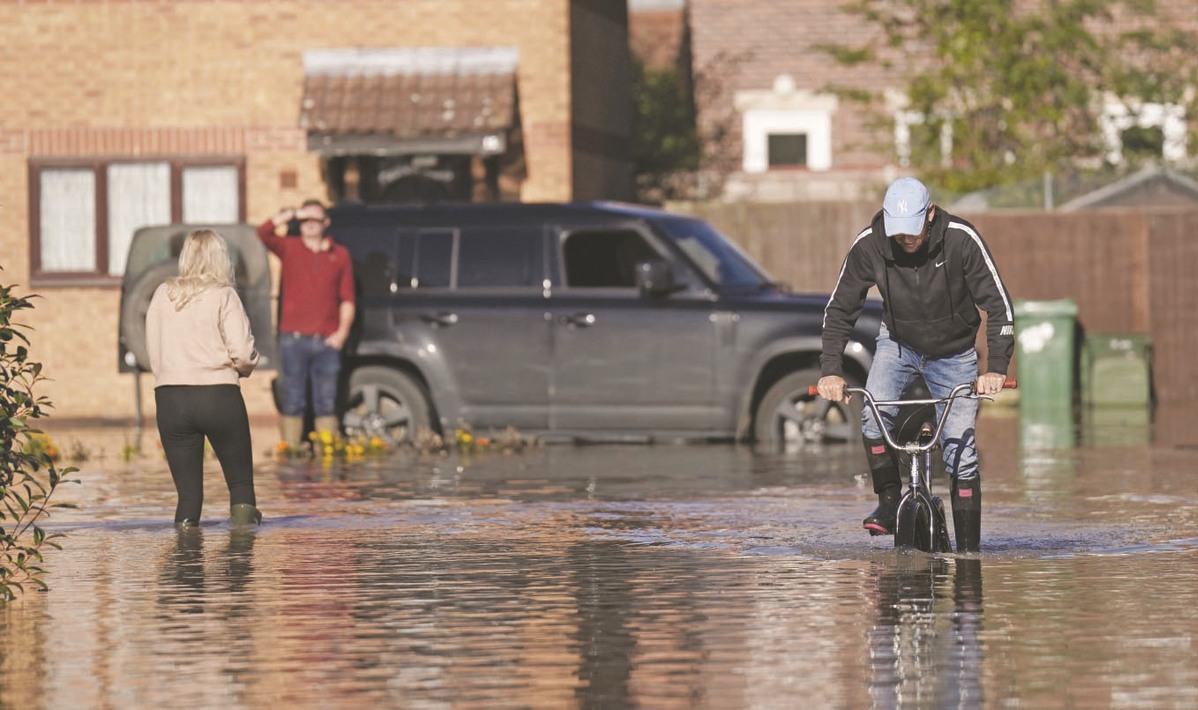 Disruption across the United Kingdom caused by floods as a result of Storm Babet could last for days, the UK's Environment Agency has warned, after a weekend of high winds and torrential rain brought chaos across the country and left four people dead.
Across England, 116 flood warnings remain in place, and in eastern Scotland the city of Brechin has been particularly hard hit, with local councillor Gavin Nicoll telling the BBC's Sunday Show that some people may not be able to return to their homes before Christmas, if at all.
"It's dry now, but there's sludge and salt everywhere," he said. "It's contaminated sludge and silt, and it'll take a fair bit of cleaning up." When asked how long people might be expected to stay away, he said "it will be (an) extensive period… these houses won't be ready by Christmas."
Areas along the banks of the River Severn, which at around 350km long is Britain's longest river, running through western England and Wales, including the cities of Bristol, Worcester and Gloucester, will remain affected for some time, and areas in the East Midlands and Yorkshire could also see more flooding in the coming days.
So far there have been two reported fatalities in England and two in Scotland. Official government advice to residents in flood-affected areas is to "avoid using low lying footpaths near local watercourses and plan driving routes to avoid low lying roads near rivers, which may be flooded."
Dave Britton, a spokesman for weather forecasting bureau the Met Office, told ITV News that the worst-affected areas should experience "a couple of quieter days "which would allow some respite for recovery efforts.
"There is this pulse of rain moving its way north overnight later on Monday and into Tuesday, but the rest of the week does look like it remains rather unsettled with spells of rain at times," he added.
Brechin experienced more than a month's rainfall over the weekend, and on a visit to the affected area, Scotland's First Minister Hamza Yousaf said the devolved government would work with the local authorities over the coming "days, weeks and months" about what help could be given, including the possible funding of improvements to flood defense measures.
"We know that the recovery is going to be long because I've seen myself the scale of the devastation in some of the houses and some of the businesses here but the government is here for the long haul with our partners in local government," he added.