Bumper autumn harvest heralds record output
By Li Lei | China Daily | Updated: 2023-10-24 09:40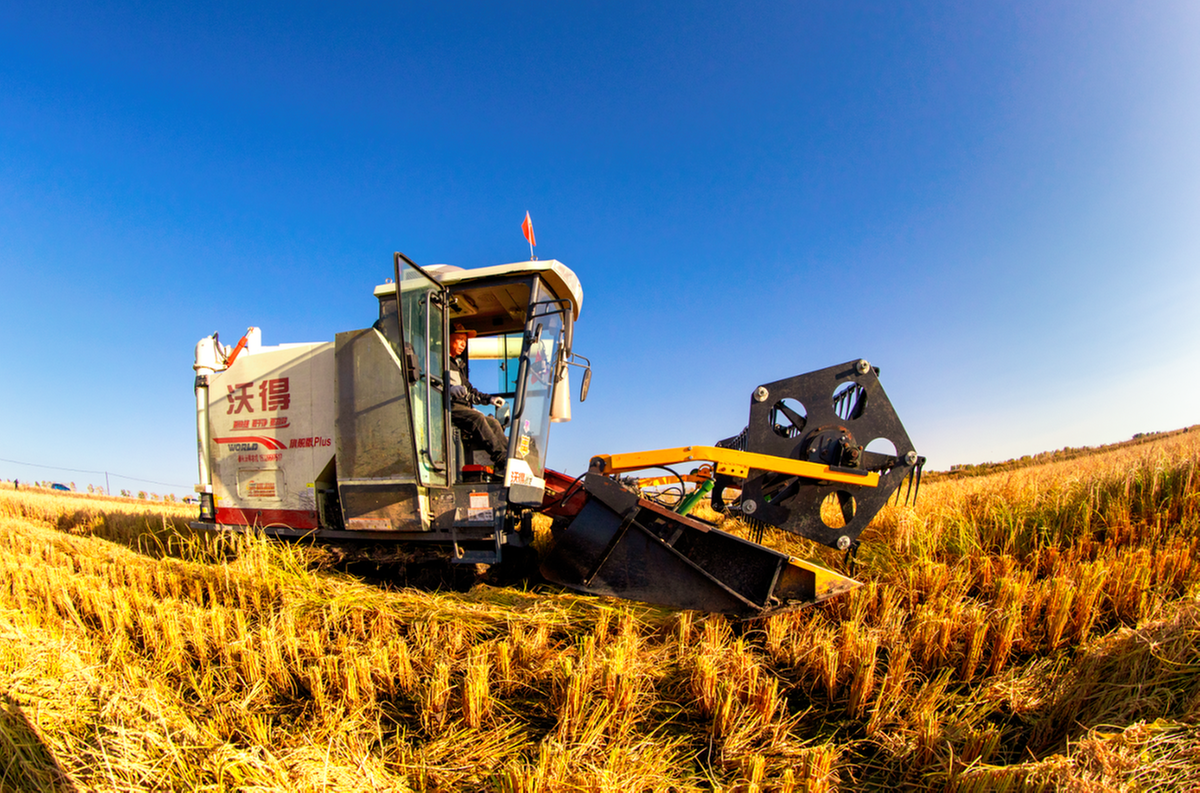 Despite heatwaves, drought, downpours, nation's food security further improved
The nation's grain output is forecast to hit a historical high despite farmland being hit by a string of heatwaves and torrential rain over the summer, which disrupted food production and wiped out entire harvests in some areas, officials said on Monday.
The reason for the increase in grain output is due in part to a larger growing area, the adoption of high-yield crop varieties and milder-than-usual droughts, officials said at a news conference held by the State Council Information Office to mark the end of the autumn harvest season.
Autumn grains, or food crops that ripen in autumn, contribute to more than 70 percent of China's annual food output, official figures showed.
Zeng Yande, who oversees agricultural development and planning at the Ministry of Agriculture and Rural Affairs, said this year's crop yield was likely to be above 650 million metric tons for the ninth consecutive year and may even reach a new high.
That was against the backdrop of "rotting rain", severe flooding and sporadic droughts that ravaged food production heartlands in Northeast, North and Northwest China, he said.
"The increase in autumn grain yield is now a settled matter," he said.
Zeng, who is also a senior agrotechnician, said the summer harvest output this year — totaling 146.1 million tons — was slightly lower than last year's but was still the second-highest ever. Summer rice yield rose for a fourth consecutive year to 28.3 million tons.
The growing area for autumn grain has been expanded, he said, adding that apart from certain disaster-afflicted areas, most grain-producing regions were expecting a bumper harvest due to a good mix of sunlight, suitable temperatures and rainfall.
Pan Wenbo, director of the ministry's planting management department, said more than 80 percent of autumn crops had been harvested.
"Some reported reduced output because of disasters, but notably more provinces reported an increase," he said.
Citing figures tracking agricultural production, Pan said the growing area for autumn food crops was 87.3 million hectares this year — 0.46 million hectares more than last year. The increase was due in part to government campaigns to promote the replacement of cash crops with grains and to bolster intercropping practices.
The central government's push to promote high-yield corn and soybean varieties also contributed to the rise, he said.
As part of the push, authorities launched a campaign to bolster productivity in 200 corn-growing counties, and 100 soybean-growing counties, through methods ranging from promoting varieties that can be planted more densely, to stepping up crop management efforts to prevent diseases and pest-induced damage.
"Central finance has earmarked 2.4 billion yuan ($328 million) for the job, and the resulting progress is obvious," he said.
The less severe natural disasters have also contributed to the new highs.
Pan said about 9.6 million hectares of crops were affected by typhoons, droughts, floods, frost and heatwaves this year. That is 1.9 million hectares fewer than the previous year, and 7.2 million hectares less than the five-year average between 2018 and last year. Specifically, drought-affected crop fields made up 30 percent of all disaster-affected farmland this year, lower than the 42 percent average.
"Practices have shown that wetter years such as this year are conducive for food production," he said.
The bumper harvests have helped stabilize domestic food prices at a time of turbulence for the global food supply.
Liu Han, who oversees the ministry's market and information division, told the news conference that a range of factors had sent global rice prices to a 15-year high, including more extreme weather events, increasing protectionism, regional conflicts and a drought-induced export ban introduced by India.
"The domestic rice procurement price in September is just 0.7 percent higher than in January," she said.