Water system project helps beautify Shapotou
Share - WeChat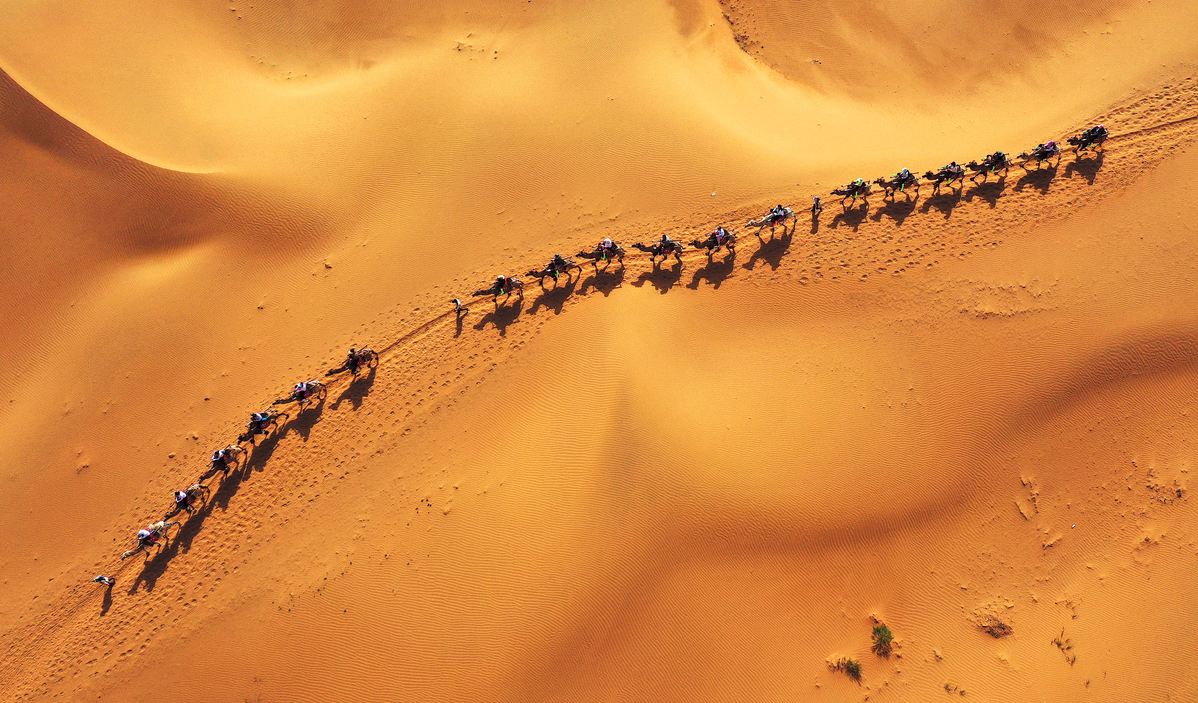 YINCHUAN — Shapotou, which translates to "high sand dunes", is a district in Zhongwei, Ningxia Hui autonomous region, where the Tengger Desert meets the Yellow River, China's second-longest river.
The Yellow River had run intermittently through the area until 2021, when a vast dredging project aimed at connecting 22 lakes and five drainage channels began. Today, the water systems are fully connected.
From above, a bird's eye view offers a captivating vista along the northern bank of the Yellow River in Shapotou. A clear waterway weaves its way around the cultural and scenic landscapes dotted along the banks of the revived lakes and ditches.
"In the past, lakes were not connected, which formed bodies of stagnant, low-quality water. Now that the water system is connected, the rural area has been beautified," said Guo Wenbao, who works at the district's water affairs bureau.
More than 40,000 people in two townships have benefited from the river environment treatment project in an area of 46 square kilometers, which also enjoyed a rural toilet revolution and new sewage treatment facilities.
Tang Xiuqin, from Fengzhuang village in Rouyuan township, said she and her fellow villagers began using flush toilets last year. Through a sewage collection pipe network, the residential wastewater enters a sewage treatment plant before discharging into the nearby wetland.
Shapotou is where the Yellow River enters Ningxia and begins its 397-km journey through the region. Its significance is why the district was selected in Ningxia to pilot the river's water system connectivity and rural beautification project.
Following the pilot project, the regional government has extended the effects of the experiment, dredging the river's water network, protecting the river wetlands and promoting the rural toilet revolution to make the river cleaner.
The improvements have boosted tourism, allowing the region's uniqueness to shine.
Today, Shapotou has become a magnet for tourists who flock to the district to drift down the Yellow River on a sheepskin raft, fly across the river on zip lines, gaze at the Milky Way through a glass hotel ceiling in the desert, or test their endurance with activities such as sand surfing and sand skiing.
Xinhua